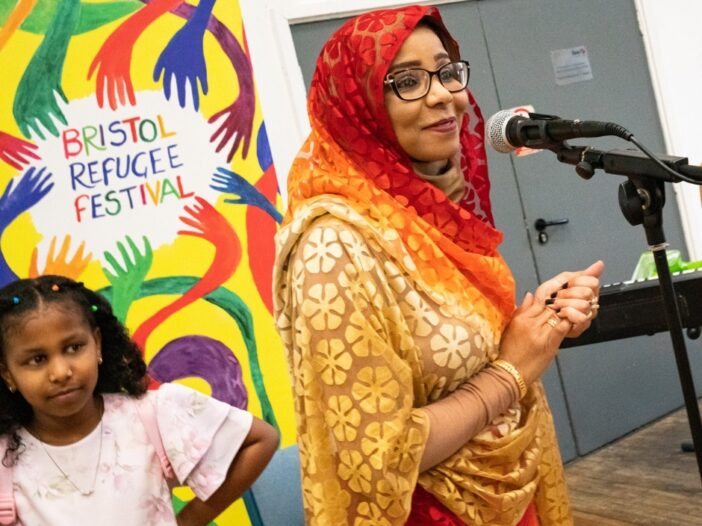 At the recent Creating Spaces of Welcome workshop, Bristol Refugee Festival brought together people from local communities and organisations with refugees and asylum seekers to explore how our local spaces can be more welcoming to the full spectrum of people in the community.
Sherien Elsheikh, a Refugee Festival ambassador who was at the event, reflects on the theme with reference to some personal experiences.
Welcoming is the connection between people when they meet up to socialize. I felt the welcoming spaces workshop was open for everyone. This event took place to open up and encourage people to come out of isolation and join the surrounding living community. There were lots of people from different backgrounds and religions, smiling and hugging each other. I felt a beautiful feeling, all people with each other and, among them, intimacy.
It's nice to see people of different races, genders, and religions, but they are united by affection, compassion, and a sense of belonging to the place and people. We left our country for various reasons; the best relations brought us together here, and we became family and friends.
At the event, there were a lot of people. Jules opened the speaking with beautiful words, and then I spoke. To make them realize the sense of welcome and belonging, I started saying the word welcome in my mother tongue; then they started saying the same word in several other languages, and there was a happy atmosphere in the place.
Language has a very strong effect in attracting people's attention, bringing them closer, and making them feel belonging and acceptance. Knowing each other's languages ​​and accepting each other as we are indicates awareness and culture.
In the creating spaces of welcome event people shared many of the problems they encounter during their work in organizations, including the difficulty of understanding the language of new members, the lack of translators for all languages, and many questions that revolve around endearing and desiring people in society and reducing their fear of it.
The importance of welcoming
Bristol is famous for its multiplicity of cultures and races. It is beautiful and a centre for artists and musicians – evidence that people treat each other with kindness.
When a person leaves his home to live somewhere else, he will be apprehensive and expect anything at the same time. The most difficult feeling is to leave your place of birth and family, especially if it is very difficult to return to them soon.
I was born in Libya and grew up there, and we learned about many cultures. I went to Sudan and completed secondary and university studies, becoming a tutor at the university. I would see how my family welcomed others, providing delicious meals and drinks, and comfort.
In my first months in England, after leaving my mother, father, sisters and brother to who I was so attached, and having given birth to my eldest son, I went out without my husband. I was pushing my little baby on his pushchair. Some teenagers attacked me, using bad words and throwing stones. There is no language.. no protection.. I cannot describe that feeling.. I wanted to cry so badly.
Also, one day, when I was on the bus, I asked the driver to stop to get off, but he refused, and I did not know how to act. I felt unwanted.
In this life, we ​​learn a lot from the situations that pass us by. It strengthens us and increases confidence within us over time.
I also had the good fortune to feel a sense of welcome. I have worked a lot in volunteer work and met many types of people who give you this feeling. By nature, I love people, I love helping others, and meeting people with joy is a sign of welcome.
My advice to people who are new to this country is not to be afraid, there is a law that protects you if you are right. And learn from others. I learned a lot. I learned that one position should not be generalized, that we should not take matters personally, and that we should forget and always develop ourselves for the better.
We strive to get what we want. Because with the success of the individual, society succeeds. By building healthy and successful children, corruption will be reduced and ended. And accepting and respecting other cultures is a very important step towards gaining new experiences and getting to know more about the world.